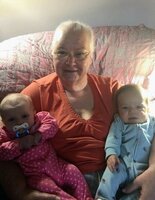 Wilma V. Zarpentine
Brockport: Wilma Zarpentine passed away on Friday, May 12, 2023, at the age of 80. She joined her husband, Dale Zarpentine in Heaven.
She is survived by her children, Carol (Barry) Bevins, Karen (Gary) Weissenburger, Joel (Mattie) Zarpentine and Sharon (Ken) DiLauro; her sisters, Judy (Bill) Koehler and Jenny (Bruce) Morganello; her grandchildren, Michael Strassner, Matthew (Jenn) Strassner, Mandy Kurz, Marla Strassner, Sarah (Evan) Greive, Emily James, Amy (Jeff Berends) Thornton, Kimberly (Ryan) Colley, Jessica Hinzman-DiPasquale, Ronnie Hinzman, Elisha Zarpentine; Thomas Ferra, and Mark DiPasquale; her great-grandchildren, Benjamin & Luna Strassner, Bryce Friedrich, Alicia & Alexander Dioguardi, Kira Greive, Mi Kayla Seiler, Journey Berends, Andrew & Nate Colley, Skyla Fleischer, Karenna Ferra, Natalia, Mariella, Cruz & Alonzo DiPasquale, and Dale Bevins; her great-great grandchildren, Boston Harris and Emelio Dioguardi and several nieces and nephews.
She was predeceased by her granddaughter, Summer Thornton (2004).
Service to be held at the convenience of the family.
In lieu of flowers or donations, please learn to crotchet, plant a garden, make a pot of soup, install a feeder to watch the birds, enjoy a dish of lemon ice or laugh at an inappropriate joke in memory of Wilma.
Arrangements entrusted to Thomas E. Burger Funeral Home, Inc., Hilton, New York.