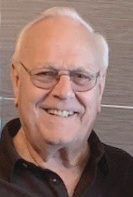 Norman M. DeRoo
Hilton/Leesburg, Florida - Norman M. DeRoo passed peacefully, at his Florida home, with family at his side and comforted with prayers from friends and relatives, on January 18, 2023 at the age of 82. Norm was predeceased by his wife, Lonna, of 45 years. He is survived by his loving partner, of 13 yrs, Nancy Murray and her family; his beloved children, Dawn DeRoo Carey, Kristen DeRoo, and Daniel DeRoo (Lesa); his granddaughter, McKenna Carey; his great-granddaughter, Grace Lynch; his brother, Gary DeRoo; and his cherished cousins, nieces and nephews.
Norm was an Army Veteran and retiree from West Irondequoit School District, where he worked in grounds and maintenance. Later he became partner with his son, Dan, at DeRoo Woodworking. Norm enjoyed spending time with family and friends. He will be greatly missed.
Interment will be held at the convenience of the family in Parma Union Cemetery. In lieu of flowers, donations can be made to the American Legion of choice in Norm's memory.