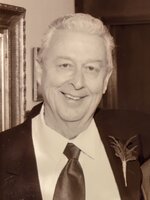 Joseph Henri Hemmerich
Hilton - Joseph Henri Hemmerich passed away on January 13, 2023 at the age of 78. He is survived by his wife, Carol (Reber) Hemmerich; his children, Jennifer Hemmerich (John Militello), Lisa (Kevin) Speciale, and Jason (Andrea) Hemmerich; his grandchildren, Liam and Eva Speciale, Isabella and Torin Militello; his brother-in-law, Richard Reber; his sisters-in-law, Heidi (Joe) Spurrier, and Merilou (Dean) Rudy. Joseph is predeceased by his grandson, Lucien James Hemmerich-Militello.
Joseph was a retiree from the University of Rochester where he worked as a Plumber and Pipefitter. Previously, he had worked for Eastman Kodak as a Construction Supervisor before retiring. In his leisure time, he enjoyed camping and traveling in his motorhome around the United States, collecting shoes, watching Hallmark movies, doing yardwork on his Kabota tractor, and drinking Utica Club beer.
Family and friends are invited to call on Thursday, January 19, 2023 from 11:00 am - 2:00 pm at the Thomas E. Burger Funeral Home, 735 East Avenue, Hilton, where Joseph's Memorial Service will take place at 2:00 pm. Interment in Parma Union Cemetery.
In lieu of flowers, donations can be made to the American Cancer Society Lakes Region, 1120 S. Goodman Street, Rochester, NY 14620 in Joseph's memory. To donate online, click on the charity name.