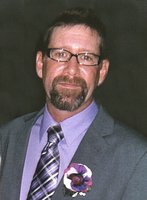 Mark J. Lemmon
Rochester - Mark J. Lemmon passed away on Tuesday, November 8, 2022 at the age of 60. He was predeceased by his father, David Lemmon and his sister, Lynn Lemmon. He is survived by his loving companion, JoAnn Dalle; his daughter, April (Daniel) Acciaio; his grandchildren, Moriah, Tessa, Ava and Kylie; his great-grandson, Marcelo Bath; his mother, Gaynell Lemmon; his siblings, Scott Lemmon, David (Helen) Lemmon, and Barbara (Wayne) Lewis; and his nieces and nephews.
Mark was a construction worker. In his leisure, he enjoyed hunting and fishing. He will be deeply missed.
Services will be held privately at the convenience of the family.