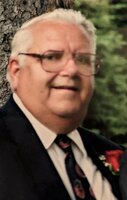 Richard C. Harper
Gates - Richard C. Harper passed away on Monday, November 7, 2022 at the age of 84. He is survived by his wife of 63 years, Celia A. Harper; his children, Scott (Donna) Harper and Timothy (Ariane) Harper; his grandchildren, Joshua, Maya and Gabrielle Harper; his brother, James Harper; and many nieces and nephews. Richard was predeceased by several of his brothers and sisters.
Richard was a Boy Scout and served on the Kendall Boy Scout Camp Board for many years. He was retired from Seneca Paper where he worked in sales. In his leisure he enjoyed going to his cottage on the St. Lawrence river, fishing, growing vegetables and flowers in his gardens, and bowling. He will be deeply missed.
Services will be held privately at the convenience of the family.