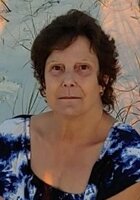 Beth Anne Feola
Hamlin - Beth A. Feola passed away on November 6, 2022 at the age of 61. She is survived by her son, Joe (Andrea) Burton; her grandchildren, Jordan, Mark and Alyxander Burton; her loving companion, Jeff Dobson; Jeff's mother, Bonnie Dobson; Jeff's daughter, Amber Reynolds; Amber's children, Rylee and Ava Reynolds; and her nieces and nephews.
Beth was a homemaker. She loved being at home. She enjoyed cooking a good meal, listening to Billy Joel music, going to concerts, being near the water and going for boat rides, growing roses in her flower garden, being outdoors and watching the wildlife, and her cats and dogs.
Friends are invited to call on Friday, November 11, 2022 from 1:00 - 3:00 pm at the Thomas E. Burger Funeral Home, 735 East Avenue, Hilton. Interment will be at the convenience of the family.
Donations can be made to the National Multiple Sclerosis Society, 1000 Elmwood Ave #900, Rochester, NY 14620 in Beth's memory. To donate online click on the charity name.