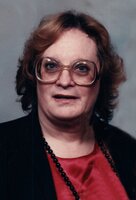 Barbara C. Cline
Hamlin - Barbara C. Cline, Mother, Daughter, Sister, Friend, passed peacefully on September 17, 2022 at the age of 82. She was predeceased by her parents, Andrew Sr. and Margaret Smith. She is survived by her daughter, Tasha M. Cline and granddog, Lily; her brother and sister-in-law, Andrew and Lucinda Smith; and her nephews, Christopher (Heidi) and Patrick (Wendy) Smith and families.
Friends are invited to attend her Memorial Service on Friday, September 23, 2022 at 11:00 am at the Hamlin United Methodist Church, 1742 Lake Rd N, Hamlin, NY 14464. Interment in Lakeside Cemetery.
Those wishing may contribute to her Church Memorial Fund in her memory.