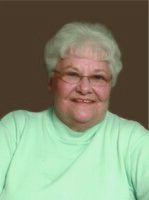 Mona A. Way
Holley - Mona A. Way passed away on September 15, 2022 at the age of 84. She was predeceased by her parents, Chester and Martha Armstrong, and her daughter, Jodianne Shaw. She is survived by her husband, James Way; her daughter, Patricia Galjour; her step-children, Cheryl (Kevan Richardson) Dool, Wendy (Ken) White, and Jim Way Jr.; her granddaughter, Dana Jo Lefort; her step-grandchildren, Dan (Tiffany) Dool, Kevin (Stephanie) Dool, Kelly (Scott) Carpenter, Kurt (Jess) White, and Abby (Zach) Hartman; several great-grandchildren; her sister, Julianne Colby; and her nieces and nephews.
Mona was a retired school bus driver for the Hilton Central School District. In her leisure she enjoyed bowling and cooking and eating fresh caught bullhead, perch and venison. She loved her family and her pets. She will be greatly missed.
Family and friends are invited to call on Saturday, September 24, 2022 from 1:00 - 3:00 pm, at the Thomas E. Burger Funeral Home, 735 East Avenue, Hilton, where her Memorial Service will follow at 3:00 pm. Interment in Parma Union Cemetery immediately following the service.
In lieu of flowers, donations can be made to the Craig A. Goodrich Animal Shelter, 80 Railroad Avenue, Hamlin, NY 14464