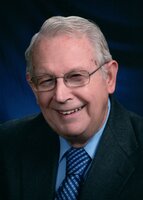 Norman Scott Edgett
Hilton - Norman Scott Edgett passed away on September 8, 2022 at the age of 84. He is survived by his loving wife of 58 years, Joanne Kyanka Edgett; his children, Kenneth (Kim), Jeanne (John) Saucke, Tim (Sophie), Andrew (Jae), Chunsoon Li, Judianne (Brian) Malone; his grandchildren, Adam (Rachel) Emond, SooYa Edgett, Mina Edgett, Hana Li Chon, Jia Edgett, Jillian Saucke; his brother, Richard (Chitie) Edgett; his sister, Bette Edgett; his sisters-in-law and brothers-in-law, Dorothy (Dan) Milbrandt, Laura (Paul ) Krzemien; and many nieces and nephews.
Norman was a retiree of Eastman Kodak Co. where he worked as an Engineer. In his leisure he enjoyed sports, photography and computer work. He will be deeply missed.
Family and friends are invited to attend Norman's Funeral Service on Friday, September 16, 2022 at 7:00pm at St. Paul Lutheran Church, 158 East Ave, Hilton, NY 14468. Private Interment.
In lieu of flowers donations can be made to St. Paul Lutheran Church Memorial Fund, 158 East Ave, Hilton, NY 14468 in Norman's memory.
Special thanks to Rochester Regional Hospice and the staff of "Happier at Home".