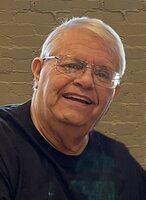 James C. Sackel
Albion, NY - Jim Sackel passed away on Sunday, August 14, 2022 at the age of 74. He was predeceased by his parents, Christopher and Mary Sackel; his sister, Patricia Sackel; and his brother-in-law, Steve LaDue. He is survived by his brother, Grant (Barbara) Sackel; his sister, Sharon LaDue; and several nieces and nephews.
Jim loved listening to music and had attended Woodstock in 1969. He was baptized as one of Jehovah's Witnesses in 1974. He loved talking about the Bible and teaching it to others. Jim was known for his generous and giving spirit and his infectious laugh.
A Memorial Service will be held on Saturday, August 27, 2022 at the Kingdom Hall of Jehovah's Witnesses, 14840 East Avenue, Albion, NY at 2:00 p.m. The service will be held in person and on zoom.