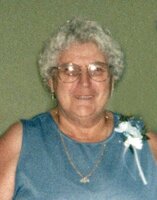 Rita Alice Paeth
Holley - Rita A. Paeth passed away on August 8, 2022 at the age of 85. She was predeceased by her parents, Sylvester and Florence Zajaczkowski; her husband, William Paeth; her grandson, Joey; her sisters, Patti and Elaine; her daughters, Carol Paeth and Vicki Cain; and her son-in-law, Gary Iascone. She is survived by her loving partner of 30 years, Carlo Onorato; her children, David (Christine) Paeth, Robert Paeth, Charles Paeth, Scott (Sue) Paeth and Tammy (Lucas King) Vicens; her son-in-law, Patrick Cain; her brother, Jack (Debbie) Zajaczkowski; her grandchildren, Michael, Christian, Jason, Kaylee, Sebastian, Christina, Angelina, Alyssa, Aaliyah, Monica (Stephen), Brittany (Derek) and Tisha; and her great-grandchildren, Janessa, Araceli, Keyana, Xavion and Aiyanna.
Rita was a homemaker. She enjoyed working on the farm, playing euchre and playing bingo. Most of all she enjoyed spending time with her family.
Family and friends are invited to call on Friday, August 12, 2022 from 4:00 - 6:00 pm at the Thomas E. Burger Funeral Home, 735 East Avenue, Hilton, NY 14468 where Rita's Memorial Service will be at 6:00 pm. Interment will be held on Saturday, August 13, 2022 at 12:30 pm at Lakeside Cemetery.
In lieu of flowers, donations can be made to the Parkinson's Foundation Greater Rochester Chapter, 1000 Elmwood Avenue, Rochester, NY 14620 in memory of Rita. To donate online click on the charity name.