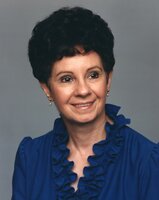 Joan Barbara Sample
Hilton - Joan B. Sample passed away on July 6, 2022 at the age of 89. She was predeceased by her husband, Charles. She is survived by her sons, James Sample and Charles (Laurie) Sample; her grandson, Adam (Kristy) Sample; and her sister, Carole Sheppard. Joan was also predeceased by her brother-in-law, James Sheppard.
Joan was retired from Eastman Kodak where she worked as a paper inspector. She was a Catholic and a member of the Old St. Mary's Church in previous years. She enjoyed watching television especially old crime shows, QVC, ION TV and the News on channel 8. She especially enjoyed spending time with her family.
Family and friends are invited to attend Joan's Funeral Service, which will be held on Friday, July 22, 2022 at 10:00 am at the Thomas E. Burger Funeral Home, 735 East Avenue, Hilton, NY 14468. Interment in Lakeside Cemetery.