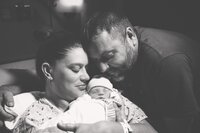 Archer Lawrence Northrup
Hilton: Archer Lawrence Northrup became one of Jesus' angels on Saturday, July 9, 2022. He is survived by his mother, Samantha Rose Palermo and his father, Adam Northrup. He also leaves his maternal grandmother, Florence Palermo-Yandow; maternal grandfather, Daniel Palermo; paternal grandparents, Jane and Ray Northrup; siblings (Adam's children), Adam Northrup Jr., Amber Northrup, Leigha Northrup, Sypriss Pratt-Northrup and Brie Northrup; aunts and uncles, Aunt Melissa Ellinwood, Uncle Mike (Bridget) Ellinwood, Uncle Adam (Audra) Palermo and Aunt Amanda Northrup-Wood; and several cousins.
There will be a private gathering in memory of Archer.
In lieu of flowers, donations could be made in memory of Archer to "Charlie's Way", Gift and Donor Records, PO Box 270032, Rochester, NY 14627 (click on this charity name to link to an article with information about the charity), or to "Now I Lay Me Down to Sleep", P.O. Box 621669, Littleton, CO 80162 (a charity that creates photographic legacies for infants - click on this charity name to link to the website with information and a donation tab).