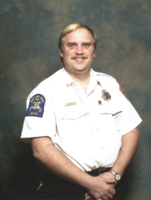 Michael J. Jones
Hamlin - Michael J. Jones passed away on June 28, 2022 at the age of 64. He is survived by his wife, Karen; his daughter, Christina (Melissa Guck) Jones; his brother, Robert (Paula) Jones; his brother-in-law, Arthur (Andrew Hull) Parker; and his niece, Jennifer Jones.
Michael worked for Eastman Kodak as a Firefighter and EMT. Over the years, he was a member of the Barnard Fire Department Explorers, Greece Volunteer Ambulance, Hilton Volunteer Fire Department and Lakeshore Fire Department. He loved being outside and working in his yard. He also enjoyed photography and anything to do with trains including, model trains, going to train museums, photographing trains and riding on trains. He was skilled at crafting and woodworking and he was a big Buffalo Bills fan. He will be deeply missed by his family and friends.
Family and friends are invited to call on Wednesday, July 6, 2022, from 2 - 4 pm at the Thomas E. Burger Funeral Home, 735 East Avenue, Hilton, where Michael's Memorial Service will be held at 4:00 pm.
In lieu of flowers, donations can be made to the American Diabetes Association, American Diabetes Association, 160 Allens Creek Road, Building 160, 1st Floor, Rochester, NY, 14618 or to a charity of your choice in Michael's memory. To donate online, please click on the charity name.