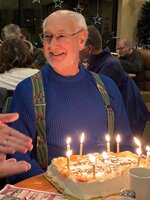 William J. Pritchard
Hilton- William J. "Bill Joe" Pritchard passed away on June 3, 2022, at the age of 83. He is survived by his wife of 60 years Suzanne (Harter) Pritchard; his children, Bill (Michael Mooney) Pritchard, Tammy (Rich) Maier, Julie (Aaron) Camp, Darlene (Tim) Vause; his grandchildren, Adam (Lindsay)Maier, Katie (Travis) Handley, Kayla Fiano, Jackie (John) Swearingain; his great-grandchildren, Erin Fiano, Shaun (Alyssa) Seymour, Bryan Neugent; his sister-in-law, Joann Harter; many loving nieces & nephews. Bill was predeceased by his sisters, Barbara (Roger)Miles, Wilma (Wesley)Dawes, Mimi (Jack) Wolff; and his brother -in-law, Donald Harter.
Bill was a U.S. Army Veteran and retired after 25 years from Eastman Kodak, then continued with his lawn mowing business for another 20 Years. He was a very hard worker, and no day could start properly without a stop at the Hilton Family Restaurant for coffee in the morning and then ice cream in the afternoon. Bill & Sue enjoyed heading south for the winter for many years. His other three loves were his three cats who were beyond spoiled.
Family and friends are invited to call on Thursday, June 30, 2022 from 4:00 - 6:00 pm at the Thomas E. Burger Funeral Home, 735 East Avenue, Hilton, where Bill's Memorial Service will be held at 6:00 pm. Interment will be held at the convenience of the family.
In memory of Bill, do something nice for someone or buy them an ice cream cone.