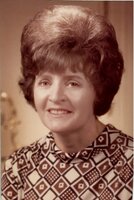 Phyllis Grace Blodgett
Perinton - Phyllis Grace Blodgett drifted into God's hand on May 31, 2022 at nearly 91 years of age. She was predeceased by her parents, Floyd and Margaret Blodgett; her four brothers, Floyd (Theresa) Blodgett, Charles Blodgett, Irving Blodgett, Clark Blodgett; and her sister, Jeannine (George) Plender. She is survived by her brother, Edward (JoAnn) Blodgett; her niece, Donna (Bob) Indovina and her other nieces and nephews.
There will be a Graveside Service on Wednesday, June 8, 2022 at 1:30 pm at the Parma Union Cemetery, 260 Parma Center Rd Hilton NY 14468.