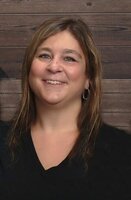 Nicole L. Gerould
Hilton - Nicole L. Gerould passed away on Monday, May 23, 2022 at the age of 42. She is survived by her husband, Chad; her 3 daughters, Katelyn, Erica, Emily; her father, Dale (Cathy) Worthington; her mother, Gail (Bruce) Rizzo; her mother-in-law, Sheryl Hugh; her sisters, Paula (Paul) Anderson, Crystal Worthington, Nicole (Steve) Myers, Sara (Kevin) Ziesenitz; her brothers, Andy (Erica) Williams, Tim (Laura) Williams, Scott (Amanda) Williams, Matt (Jessica) Rizzo; her sister-in-law, Leah (Steve) Talarico; several nieces, nephews, aunts, uncles, cousins and many friends.
Nicole was employed by Heritage Christian Services as a Case Manager. She enjoyed boating, camping, spending time at the beach, vacationing and being with her girls. She especially enjoyed when all the neighborhood kids would gather in her yard to play with her girls. She will be greatly missed by all.
Family and friends are invited to call on Tuesday, May 31, 2022 from 4:00 to 7:00 pm at the Thomas E. Burger Funeral Home, 735 East Avenue, Hilton, NY. Nicole's Funeral Mass will be on Thursday, June 2, 2022 at 11:00 am at St. Jude's Church, 4100 Lyell Rd, Rochester, NY 14606. Interment will be at the convenience of the family.
In lieu of flowers, donations can be made to The MD Anderson Cancer Center, 1515 Holcombe Blvd, Houston, TX 77030 or to The Dream Foundation, 1528 Chapala Street, Suite 304, Santa Barbara, CA 93101. To donate online click on the charity name.