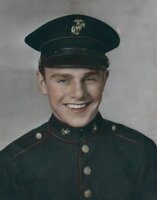 William J. Paulus
Brockport - William J. Paulus Jr. passed away on Saturday, May 14, 2022 at the age of 98. He was predeceased by his son, William J. Paulus III. He is survived by his loving wife of 74 years, Maxine Paulus; his children, Robert (Carrie) Paulus, Cheryl (Joe) Scibetta and Suzanne (Bruce) Sullivan; his daughter-in-law, Sharon Paulus; his many grandchildren including Michelle (Gerald) VanSchaick and Robert Paulus Jr.; his several great-grandchildren; and 2 great-great-grandchildren.
Bill was a WWII Veteran and a proud Marine. He retired from Kodak in 1982 after 37 years, where he enjoyed playing baseball in the league there. In his spare time, Bill enjoyed gardening, shuffleboard and working in his yard and with the pool, which he dug by hand in the 70's. He would travel to Pennsylvania frequently and liked to tent camp.
The family extends a special thanks to all the loving aides who took care of Bill, especially Liz.
Visitation will be held Friday, May 20th from 10 -12 at the Thomas E. Burger Funeral Home, 735 East Avenue in Hilton, followed by Bill's Funeral Service at noon. Interment with Military Honors will follow in Garland Cemetery.
Contributions can be made in memory of Bill to the Veteran's Outreach Center in 447 South Avenue, Rochester NY 14620. (click on the charity name to link to the online donation site)