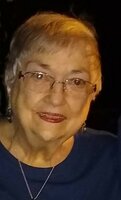 Nancy R. Squier
Hilton - Nancy R. Squier passed away Tuesday, May 10, 2022 at the age of 80. She was predeceased by her husband, Roger only 3 weeks earlier on April 16th. Nancy is survived by her daughters, Brenda (John) Plarr, Linda Squier, Tracy (Rick) Viccaro and Nancy Mordenga; her grandchildren, Steven (Kelly) Squier, Kevin (Lindsay) Roy, Scott (Nate) Roy, Nick (Kelly) Roy, Allison Mordenga and Brook Mordenga; her great-grandchildren, Blake, Haley & Brady Squier, Ryleigh Johnson, Greyson & Jack Roy; her sister, Arletta Lemcke; her sisters-in-law, Sue Squier, Betty Story and Sally (Ed) Atwood; her brother-in-law, David (Patti) Squier; and many nieces, nephews and cousins.
Throughout her life, Nancy enjoyed camping - graduating from tents to motorhomes - in the 1000 Islands and the Adirondacks. She loved her family and will be greatly missed by all of them.
Nancy and her husband, Roger will be laid to rest on Saturday, June 4th at 11:00 AM in Parma Union Cemetery.
Contributions can be made in memory of Nancy to Craig Goodrich Animal Shelter, 80 Railroad Avenue, Hamlin, NY 14464.