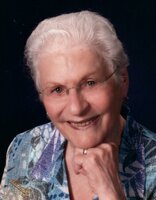 Vera Mavis Bushhouse
Hilton - Vera M. "Mavis" Bushhouse passed away on Wednesday, April 20, 2022 at the age of 89. She was predeceased by her husband, Fred (1996). She is survived by her daughters, Deb (Kevin) Traut, Cathy (Brian Walsh) Bushhouse and Diane (Pete) Curcio; her grandchildren, Caitlin, Ben, Eric, Alex, Kyle and Kirsten; nieces, Kathy and Suzie; and nephews, Doug and Matthew. She was also predeceased by her parents, Arthur and Vera Blaze; and her brothers, Syd (Betty) Blaze and Frank (Marilyn) Blaze.
Mavis loved spending time with her family. She also enjoyed bowling, playing bridge, traveling in Europe, singing in the St. Leo's Church choir, and she was a member of the Columbiettes. She was a dedicated hospital volunteer and owns many certificates verifying her numerous blood donations.
Friends and family are invited to the Funeral Service for Mavis on Tuesday, April 26, 2022 at 11:00 am at St. Leo the Great Church in Hilton.
Donations can be made in memory of Mavis to St. Leo the Great Church, 110 Old Hojack Lane, Hilton, NY 14468.