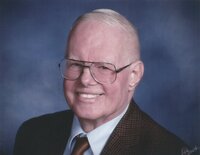 Hans W. Osterhoudt
Rochester - Hans W. Osterhoudt passed away on March 18, 2022 at the age of 86. He is survived by his wife, Marjorie; his sons, David (Wendy) Osterhoudt and Thomas (Karen) Osterhoudt; and his grandchildren, Christopher, Timothy, Joshua and Emily. Hans was predeceased by his brother, Peter Osterhoudt.
Hans graduated from Colorado State University in 1958, earning a BS Degree in Chemistry. He continued his studies at the University of Wisconsin, Madison, where he earned a PhD in Chemistry in 1964. It was at CSU that he was a member of Pi Kappa Alpha - Epsilon Theta Chapter. He was a founding member of the Epsilon Theta Chapter of PiKA. He was also a member of the Honor Society of Phi Kappa Phi and Omicron Delta Kappa, a National Leadership Honor Society. Following his education, he worked for Armstrong Cork Co. from 1964-1968 and then Eastman Kodak Co. from 1968-1998. He was a member of the Society of Plastics Engineers and developed several patents. He was a very active member of the Spencerport United Methodist Church, where he enjoyed singing in the choir. In his leisure he enjoyed fishing in Colorado, wood working, reading, trains and bird watching. He will be greatly missed by his family and friends.
Visitation will be held on Wednesday, March 30, 2022 from 4:00 to 7:00 pm at the Thomas E. Burger Funeral Home, 735 East Avenue, Hilton. Hans's Funeral Service will be held on Thursday, March 31, 2022 at 11:00 am at the Spencerport United Methodist Church, 30-32 Amity Street, Spencerport. Interment will be in the spring at Parma Union Cemetery.
In lieu of flowers, contributions can be made to the Spencerport United Methodist Church, 30-32 Amity Street, Spencerport, NY 14559 in Hans' Memory.