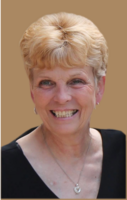 Diana L. Clark
Hilton - Diana L. Clark passed away on Tuesday, March 8, 2022 at the age of 72. She is survived by her loving husband, Patrick M. Clark; her children, Patrick (Robin) Clark Jr., Thomas (Mary) Clark, William (Leesha) Emler, Jason (Brynne) Clark and Kristen (David) Schuth; her grandchildren, Lynnette, Megan, Joshua (Danielle), Brittany, Jacob (Jenna), Madison, Ryan, Ashtynn, Gavynn and Austynn; her great-granddaughter, Ella; her sister, Susan (Douglas) Ensman; her sister-in-law, Linda Rossi; and several nieces and nephews. She was predeceased by her parents, Fred and Helen Rossi and her brother, Fred Rossi Jr.
Diana was a wonderful mother and homemaker; baking and cooking, especially pies and Christmas cookies. In her leisure she enjoyed camping, family trips and spending some time at the casino. She loved to keep her family always connected.
Friends and family are invited to visit on Monday, March 14, 2022 from 4 - 7 pm at the Thomas E. Burger Funeral Home, Inc., 735 East Avenue in Hilton. Diana's Funeral Service will take place at St. John the Evangelist Church in Spencerport on Tuesday, March 15th at 11:00 am. Interment will be held in Parma Union Cemetery in the spring.
Those wishing, may contribute in memory of Diana to Alzheimer's Association Rochester and Finger Lakes Region, 435 E Henrietta Rd, Rochester, NY 14620. (click on the charity name to link to the website donation site)