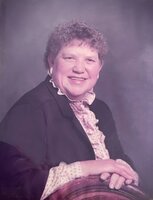 Lois Lillian Kaiser
Lois L. Kaiser passed away on Sunday, February 27th at the age of 91. She was predeceased by her parents, William and Anna Kaiser; her brother, Milton Kaiser; and her sister-in-law, Irma Kaiser. She is survived by her nephew, Arthur and his wife, Sandie of Cypress, Texas; 3 great nieces and 2 great nephews; many cousins and their children; as well as many caring neighbors and friends.
Lois was a partner in Kaiser Lumber of Hamlin, New York. She was a life long member of St. John Lutheran Church; member of St. John Dorcas Society; member of Buttonwood Twin Society of Lakeside Hospital in Brockport; cashier for Hamlin Exempts at the Hamlin Carnival; and cashier for Hamlin Lions Club at Breslawski Tractor Shows. She was also fondly known as the "Cookie Lady."
There will be no visitation hours. A Memorial Service will take place at St. John Lutheran Church, 1107 Lake Rd N, Hamlin, NY 14464 on Saturday, March 26, 2022 at 11:00 am, with a reception to follow. A private interment will be held in Lakeside Cemetery in Hamlin.
In lieu of flowers, please make donations in memory of Lois to St. John Lutheran Church, 1107 Lake Rd. N., Hamlin, NY 14464.