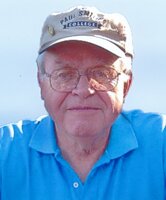 Donald E. Groth
Donald E. Groth passed away on Tuesday, January 25, 2022 at the age of 87. He was predeceased by his mother, Emily and his father, Edward H. Groth; and his brother, Mike (Virginia) Groth.
He is survived by his wife of 64 years, Beverly; his sons, Michael (Cynthia) Groth and Daniel (Donna) Groth; his brother, Tim (Jan) Groth; his grandchildren, Benjamin (Devon) Groth and Cody (Danielle) Groth; his great grandchildren, Benjamin, Fallon, Taylor, Charlotte, Lucas and Emma; his sister-in-law, Margaret Hart; and many cousins, nieces and nephews.
Donald was a Veteran of the US Army and served in Northern Italy from 1955-1957. He had a great interest in history, especially the Civil War period. He was lucky enough to track down his great-grandfather's badge that was lost in the battlefield in Port Hudson, Louisiana. One hundred twenty years ago his great-grandfather, William G. Martens, was buried at Mt. Hope Cemetery in Rochester, New York.
Visitation hours will be held on Monday, January 31st from 4 - 7 pm at the Thomas E. Burger Funeral Home, Inc., 735 East Avenue in Hilton, where Don's Service will be held at 7 pm.
Flowers are declined. Please consider a donation in Donald's memory to St. Jude Children's Research Hospital, 501 St. Jude Place, Memphis, TN 38105. (click on the charity name to reach the donation website)