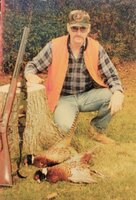 Robert A. Haughwout
Robert A. Haughwout passed away on Sunday, January 16, 2022 at the age of 77.
Bob was predeceased by his parents, Allen & Helen [Heindl] Haughwout. He is survived by his daughters, Jodi Haughwout and Amanda Rogers; his grandchildren, Abbi Haughwout, Breyden Bigler, Kailynn Shaw and Jayce & Ezra Eichas; his sister, Jeanne (Mario) D'Errico; and nieces and nephews.
Robert was a US Marine Veteran, having served in Vietnam. He was an avid hunter and fisherman. Bob was active in the Boy Scouts of America for over 20 years and worked as a Catholic Missionary in the Northwest Territory.
There will be no services at this time.