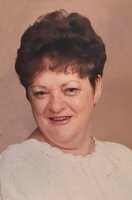 Linda B. Borden
Rochester - Linda B. Borden passed away on Thursday, January 6, 2022 at the age of 79. She is survived by her husband, Robert Borden; her daughter, Julie Ann (Glenn) Doud; and her grandchildren, Jessie and Joshua Doud.
Linda worked in the vending industry for many years. Her pastimes included playing cards and knitting.
Calling hours will be held on Wednesday, January 12, 2022 from 4 -7 at Thomas E. Burger Funeral Home, Inc., 735 East Avenue in Hilton.
Flowers are gratefully declined. Donations can be made in memory of Linda to the National Kidney Foundation (Upstate and Western New York), 1344 University Ave., Suite 270, Rochester, NY 14607. (click on the charity name to link to the donation site)