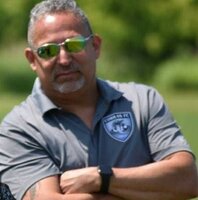 Jeffrey W. Pyles
Greece- Jeffrey W. Pyles passed away on December 28, 2021 at the age of 59. He was predeceased by the love of his life, his wife, Lisa Pyles; his father, John Pyles; his mother, Jane Pyles; and his brothers, Steven Pyles, David Cook, Anthony Corese, and Michael (Jeanie) Lauzon. He is survived by his three children, Ryan (Kellie Wright) Pyles, Cody (Paul Haas)(Zack Coonrad) Pyles, Shaunta (Josh Mack) Pyles; his sisters, Ginny Cook, Betty Jane (Michael) Block, Susan Caldwell, and Ann (Andrew) Cox-Schenck; his brother, Arthur Corese; and his grandsons, Roman & Lukas Pyles.
Jeff's passion was coaching youth soccer, he influenced many young players through the Greece Cobras organization. He loved to travel with his wife and loved boating on Lake Ontario with family.
A celebration of life will be held in the warmer months to honor both Jeff and his beautiful wife, Lisa. Check this obituary for future plans.
Donations can be made to the Alzheimer's Association, 435 East Henrietta Road, Rochester, NY 14620 in Jeffrey's memory.