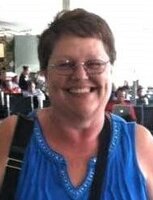 Dorthea M. Jensen
Dorthea Mae (Freelove) Knab-Jensen, 69 of Hamlin,NY passed away on December 2nd, 2021 from an illness at Highland Hospital in Rochester, NY.

She was born to Carlotta and Forrest Freelove on May 23rd, 1952 in Urbana, NY. Dorthea was preceded in death by both parents, her best friend and sister Enola B. Norton. Surviving are her brothers Barry Freelove and Wendall Freelove.

Dorthea is survived by her husband - Joseph Jensen; her children - Tina (Bill) French, Patricia (Matthew) Ritter and David (Jessica) Calvert; plus her bonus children - Sarah, Al, Zack, Devin, Avery, Riley, Savanna and Kristie. Dorthea is survived by many grandkids and many great grandkids.

Some can remember Dorthea driving cab in Bath or working at Mollys Diner. She had many hobbies of baking, gardening, fishing, playing bingo, crocheting blankets and scratching lotto tickets. She's well known for making others laugh, being bossy and very stubborn. She was often caught flipping the bird and cheating at card games and Yahtzee.

Dorthea's wish was not to have a traditional funeral. She wished for everyone to celebrate the good times and not be sad. She wished to be cremated and have her ashes shared between family. A celebration of life will be set up at a later date.

Dorthea was a wonderful woman. She will be loved and missed by many. May she Rest In Peace, be pain free and watch over and protect her family. We know she is smiling down over us, and is now reunited with her parents, her beloved husband David and other family and friends.