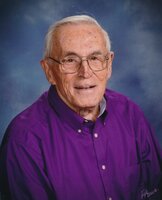 Walter Peter Horylev
Hilton - Walter P. Horylev passed away on November 27, 2021 at the age of 94. He was predeceased by his parents, Peter and Lillian Horylev; his wives, Mary Agnes and Sharlee; his son, Paul; his daughter, Christine; and his son-in-law, Brad. He is survived by his children, Peter (Sandy) Horylev, Matt Horylev, Lawrence Horylev, and Elizabeth (Jeff) Seaters; his grandchildren, Sarah (Gabe), Ian, Sean (Chelsea), Matt and Jessie; his step-children, Renee Lasch, and Mark (Janet) Bashaw; his step grandchildren, Heather (Brian), Jonathan (Caitlin), Bryan; his step-great-grandchildren, Jacob, Sydney, John, Brody, Marvel and Foster; his brother, Richard (Janice) Horylev; and his beloved girlfriend, Jan Clements.
Walt was a Veteran of the US Army where he served as a Pharmacist. He graduated from St. Bonaventure College and then from Fordham University with a Master's Degree in Chemistry. He was employed by Leaver Bros. in New Jersey, followed by Eastman Kodak Company, where he retired after 33 years as a Quality Manager. He was a member of St. Leo the Great Catholic Church where he was a lector, sung in the choir and was a member of the Knights of Columbus. He served on the Hilton Village Board as Trustee, and previously as Vice Mayor. He enjoyed photography, golfing, bicycling, singing barbershop quartet with the Hiltones for over 50 years, listening to music, collecting various collectables, going to garage sales, playing Bridge at Monroe Golf course, and traveling.
Family and friends are invited to call on Monday, December 6, 2021 from 4 - 7 pm at the Thomas E. Burger Funeral Home, 735 East Avenue, Hilton. Walter's Funeral Mass will be on Tuesday, December 7, 2021 at 10:00 am at St. Leo the Great Catholic Church, 110 Old Hojack Lane, Hilton. Interment will be held in Parma Union Cemetery.
In lieu of flowers, donations can be made to Aurora House, 2495 S. Union St. Spencerport, NY 14559 in memory of Walt; or to Monroe Community Hospital, 435 E Henrietta Rd, Rochester, NY 14620, in memory of Walt's son, Paul. To donate online, click on the name of the charity.