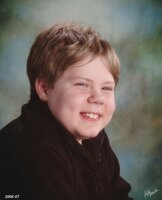 John Thomas Taddeo Jr.
Hilton - John T. Taddeo Jr., age 22, passed away suddenly on November 26, 2021, from injuries due to an automobile accident. He was predeceased by his father, John Taddeo Sr. and his grandfather, Donald Taddeo. He is survived by his grandmother, Patricia Taddeo; his aunts and uncles, Debbie Lowry, Donna Taddeo, and William (Kelly) Taddeo; his close cousins, Emily and Taylor Klimack, several other cousins and many friends.
John was an Electrician Apprentice and worked for various companies in the city of Rochester. He was an animal lover. He enjoyed spending time with his family and friends and also enjoyed gaming. He will be greatly missed.
Family and friends are invited to call on Wednesday, December 1, 2021, from 11:00 - 1:00 pm, where John's Funeral Service will be at 1:00 pm at the Thomas E. Burger Funeral Home, 735 East Avenue, Hilton, NY 14468. Interment in Parma Union Cemetery.
In lieu of flowers, donations can be made to the Craig A. Goodrich Dog Shelter, 80 Railroad Ave Hamlin, NY 14464 in John's memory.