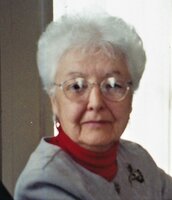 Janette Mary Hundley
Hilton - Janette M. Hundley passed away on November 14, 2021 at the age of 93. She was predeceased by her husband, Warren Hundley in 1980; her mother, Juliette Buell; her step-father, Chester Buell; and her foster parents, "Daddy Frank" Bentley and "Mama". She is survived by her children, David (Elizabeth) Hundley, Linda Hundley, James Hundley, Donna (Paul) Lossowski, Robert (Sherry) Hundley and Paul (Tanya) Hundley; her 12 grandchildren, Carrie, Dennis, Scott, Sara, Patrick, Laura, Vince, Jacquie, Courtney, Melissa, Toni, Jennie; her 16 great-grandchildren; her siblings, Patsy (Wayne) Brooks, Nancy Stewart, Bill Buell, and John (Becky) Buell; and family friend, George Courson.
Janette was a wonderful mother who dedicated herself to raising her children. She was a faithful member of St. Leo's Catholic Church for 82 years. She loved art and enjoyed painting, especially landscapes and ceramic pieces. She enjoyed sewing and learned to quilt through her quilt guild and won many ribbons for her beautiful quilts. Family was the most important to her. She loved being a mother, grandmother and great-grandmother, having a special joy for the babies and little kids. She will be greatly missed by all.
Family and friends are invited to call Tuesday, November 23, 2021 from 3-7 pm at the Thomas E. Burger Funeral Home, 735 East Avenue, Hilton. Janette's Funeral Mass will be held on Wednesday, November 24, 2021 at 11:30 am at St. Leo the Great Church, 110 Old Hojack Lane, Hilton. Interment in Parma Union Cemetery.
In lieu of flowers, donations can be made to any of the three charities listed below in Janette's memory. To donate online, click on the charity name.
Kathleen Anne Tenny Animal Shelter
62 Gorton Avenue
Hilton, NY 14468
ALSAC/St. Jude Children's Research Hospital
501 St. Jude Place
Memphis, TN 38105
Hilton Fire Department
120 Old Hojack Ln
Hilton, NY 14468