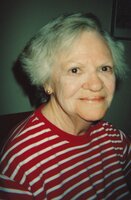 Dorothy A. McHugh
Hilton - Dorothy A. McHugh passed away on November 11, 2021 at the age of 90. She was predeceased by her parents, Joseph and Grace O'Leary McHugh, and her brothers, Daniel, Edward and Rodger McHugh. She is survived by her nieces, Margaret (Bill) Schubert and Carol McHugh Fineman; her nephews, Perry (Sarah) McHugh and Michael (Andrea) McHugh; her daughter Grace Gibbons (William) Brown; her grandchildren, Edward, William and Anne-Claire Gibbons-Brown and Colleen (Tom) Staccio; her great-nieces Molly Ellen and Emily Schubert; her great-nephews Patrick McHugh, Timothy Montgomery, and Samson and Nehemiah McHugh; and many dear friends and cousins.
Dorothy was born in Pittsburgh, Pennsylvania and loved and missed her hometown. She retired from a career as secretary, working longest for the head of the Architecture Department at Carnegie-Mellon University, where she made many dear and lifelong friends. She then volunteered many years at Pittsburgh Diocese Archives where she began exploring her own family history and helping others with theirs, again developing lifelong friendships with colleagues there. She was an avid reader of history, biographies, crime fiction, poetry, short stories, and more. She read and re-read Jane Austen and Frank O'Connor. She kept well-informed on current events and was passionate about politics and world news. Dorothy had a sharp sense of humor; she was warm, witty, wise, and compassionate. She was a great friend, great company, a beloved Granny and Aunt, and will be very sadly missed by all.
Family and friends are invited to call on Thursday, November 18, 2021, from 1:00 - 3:00 pm at the Thomas E. Burger Funeral Home, 735 East Avenue, Hilton, where her Funeral Service will be at 3:00pm. Interment to follow in Parma Union Cemetery.