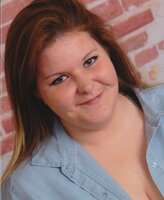 Emily Rose Ophardt
Hilton - Emily Rose Ophardt passed away suddenly on Sunday, September 26, 2021 at the age of 22. She is survived by her parents, Greg (Jennifer) Ophardt and Tammy Ophardt; her sister, Courtney (Victor Harper) Ophardt; her nieces, Avianna Lee and Emilia Harper; her grandparents, Ronald & Donna Ophardt and several aunts, uncles and cousins. She was predeceased by her grandparents, Stephen & Nancy (Niemeyer) Persall.
Emily enjoyed cooking, and she would love to go shopping at the mall. She was aspiring to be a nurse.
There will be Calling Hours on Thursday, September 30th from 5 - 7 PM at the Thomas E. Burger Funeral Home, Inc., 735 East Avenue in Hilton, where her Funeral Service will be held at 7 PM.
Donations can be made in memory of Emily to Golisano Children's Hospital, PO Box 278996, Rochester, NY 14627. (click on the charity name to link directly to the online donation site)