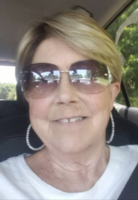 Barbara M. Zabawsky
Rochester - Barbara M. Zabawsky passed away on September 24, 2021 at the age of 66. She is survived by her Fiance, Lorenzo Johnson; her children, Sarah (John) Henchen, Rachael (Nick) Spaziani; her grandchildren, Brooke Henchen, and Ashley Henchen; her brother, Richard (Janet) Courtright; her sister-in-law, Carol Courtright Towey; and her nieces and nephews. She was predeceased by her parents, Merritt & Mary Courtright; and her brother, Edward "Bud" Courtright.
Barbara was a fighter, bravely battling cancer for over 20 years and never allowing it to slow her down or prevent her from enjoying life to the fullest. Barb loved spending time with her grandchildren, shopping with family and friends, cooking and baking delicious treats, and dining out. She was passionate about watching and feeding birds. An avid sports fan, Barb could often be found watching or playing tennis with Lorenzo, and of course Sundays were devoted to cheering on the Packers. She had a creative spirit and was always coming up with new themes and decorations for the house and yard. Barbara touched many lives and will be greatly missed by all that knew and loved her.
Services will be held privately at the convenience of the family.
Donations can be made for free wigs for cancer patients to American Cancer Society Lakes Region,1120 South Goodman Street, Rochester, New York 14620. Click on the name of the charity to donate online.