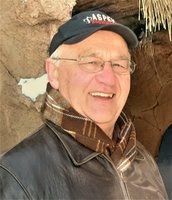 Frank R. Thomas
Hilton - Frank R. Thomas passed away on Monday, July 19, 2021 at the age of 86. He is survived by his wife, Margaret (McCarthy) Thomas; his children, Timothy (Elizabeth) Thomas and Scott (Donna) Thomas; his grandchildren, Timothy Thomas Jr. (Emily Nielson); Breanna (Reed) Pettys, Gianna Thomas, Marisa Thomas; his great-grandchildren, Clara Pettys and Ronan Pettys; his brother, James Thomas; his sister, Carol (Neil) Radford; and many nieces and nephews. Frank was predeceased by his sister-in-law, Donna Thomas.
Frank retired after 38 years with Eastman Kodak Company. He was Past President of the Parma-Hilton Historical Society, and a former Docent at the Rochester Museum. He enjoyed skiing, golf, sailing and travel. One of his favorite places was Old Forge in the Adirondacks.
Family and friends are invited to call Sunday, July 25, 2021 from 2-4 pm at the Thomas E. Burger Funeral Home, 735 East Avenue, Hilton. Services will be held privately at the convenience of the family, with Interment in Falls Cemetery.
In lieu of flowers, donations can be made to the Parma-Hilton Historical Society, 1300 Hilton Parma Corners Rd, Hilton, NY 14468 in Frank's memory.