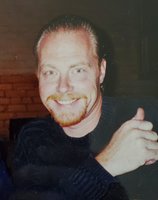 Scott Everts
Hilton - Scott Everts passed away on Thursday, July 15, 2021 at the age of 58. He was predeceased by his parents, Clifford and Betty Ann Everts. He is survived by his daughter, Kendra (Michael Stahl) Everts; his brother, Todd (Marie) Everts; his nieces and nephews, Tyler, Isabella, Todd Jr. and Chloe Everts; and many close friends.
Scott owned and operated Silicon Solutions. He enjoyed water sports - boating and jet skiing. In his younger years, he liked to fish for perch and bullheads in the 1000 Islands.
Friends are invited to call on Friday, July 23rd from 4 - 7 pm at the Thomas E. Burger Funeral Home, Inc., 735 East Avenue in Hilton, where his Funeral Service will be held on Saturday, July 24th at 10 am. Interment will take place in Parma Union Cemetery at the convenience of the family.
Donations can be made in memory of Scott to the Hilton Volunteer Fire Department, 120 Old Hojack Lane, Hilton, NY 14468. (click on the charity name to link to the donation website)