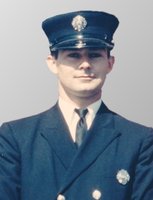 Allen "Al" Carris
Rochester - Allen "Al" Carris passed away on June 18, 2021 at the age of 81. He is survived by his children, Cindy (Don Cowan) Carris, Scott (Fatima) Carris, James (Carrie) Carris, Dennis Carris, Kelly (John) Sexton, Marcus Carris, and Phillip (Angela) Carris; his grandchildren, Daniel, Kevin, Michelle, Jennifer, Cody, Cameron, Evan, Peyton and Cavan; and his sister, Kathleen (John) Conte.
Al was a retiree of Xerox Corporation and worked as a pipefitter. He was a former firefighter in the Hilton Fire Department. He enjoyed boating and fishing in his leisure and also enjoyed lighthouses and trains.
Family and friends are invited to call on Monday, July 5, 2021 from 4-7 pm at the Thomas E. Burger Funeral Home, 735 East Avenue, Hilton.
In lieu of flowers, donations can be made to the Hilton Fire Department, 120 Old Hojack Lane, Hilton, NY 14468 in memory of Al.