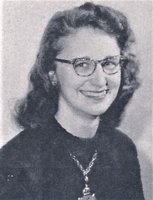 Carol Ruth MacDonald
June 15, 2021, age 89. Born, January 1, 1932 in Brighton, NY, lived her married life in Barker, NY and her last several years in Hilton. She was a science and math teacher in the Barker and Newfane school systems.
Preceded in death by her spouse, Willis Edgar MacDonald; parents, Edward John & Ruth Mae Wandersee; & brother, Edward Paul Wandersee. Survived by her brother, Alan Wandersee; children, Michael (Bonnie) MacDonald, Douglas (Nancy) MacDonald & Cheryl (Ernie) Brongo; grandchildren, Scott, Justin, Ernest, Shawn & Kyle; great-grandchildren, Mason, Leah, Calvin & Cecilia.
Arrangements will be made at the convenience of the family. Donations in memory of Carol can be made to the American Heart Association.