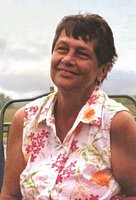 Mary A. Watkins
Brockport - Mary A. Watkins passed away on May 27, 2021 at the age of 68. She is survived by her husband, Patrick; her children, Patricia Baker, David Baker and Katherine McKinlay; her mother, Helen Heberle; her brothers, John Preston Jr., Joseph (Paula Reis) Heberle, Betsy (Dean) Brightly; her sister, Daniel Heberle; her grandchildren, Evelyn, Aiden and Jamie; her aunt, Shirley Gavigan and her nieces, nephews, cousins and friends. Mary was predeceased by her brother, James Preston and her infant sister, Margaret Preston.
Mary was a Group Supervisor at ARC of Monroe County. She enjoyed the outdoors, campfires, charter boat fishing, crocheting and testing for fish and wildlife.
Future services for Mary will be held at the convenience of the family.
Donations can be made in memory of Mary to Arc Foundation of Monroe, 2060 Brighton Henrietta Townline Road, Rochester, NY 14623, online at https://arcmonroe.org/.https://arcmonroe.org/