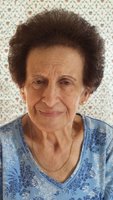 Vivian Albano
Hilton – Vivian Albano passed away on Saturday, May 1, 2021 at the age of 92. She was predeceased by her husband, Ralph (2015). She is survived by her children, Donna (Joe) Schwartz and James (Evelyn) Albano; and her grandchildren, Elizabeth & Michael Schwartz and Jesse Albano.
A graveside service will be held on Saturday, June 5th at 10:30 am at the Parma Union Cemetery. Ralph's ashes will be interred along with Vivian. Ralph was an Air Force veteran and will be buried with Military Honors.
Vivian graduated from Franklin High School. She worked at Hickok Manufacturing until her marriage to Ralph in 1952. They were married for 63 years. She was a homemaker in their apartment on Norton St. and then in their house in Hilton until her death.
Her favorite pastimes were playing Bingo with her friends and watching Law & Order Special Victims Unit, Jeopardy and the Andy Griffith show. She enjoyed doing crossword puzzles and loved her granddaughter's pugs, Sid and Daisy.
In lieu of flowers, donations can be made in memory of Vivian Albano to the Hildebrandt Hospice Care Center, Rochester Regional Health Foundations, 330 Monroe Ave, Suite 400, Rochester, NY 14607 or by visiting rrhgive.org/giving. (or click on the charity name to link directly to the donation site)