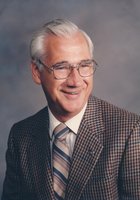 Anthony P. "Tony" Hann
Hilton - Anthony "Tony" P. Hann, much loved husband and father of many years, passed away on Sunday, March 21, 2021 at the age of 86. He is survived by his wife, Barbara Hann; his children, Peter (Tammy) Hann, Sandra (Jon) Boddy and Michael Hann; his brother, Malcolm (Pam) Hann; his grandchildren, Abigail (Robert) Huchzermeier, Justin Hann and Ian Boddy; and his great-grandchildren, Ashley Huchzermeier and Matthew Huchzermeier. He was predeceased by his sister, Jean Lawton.
Tony was born in England and served in the Royal Airforce. He was a Kodak retiree. He enjoyed stamp collecting, singing in the church choir and playing chess. He was part of the Hilton Rotary and an active member of the community.
Tony's Funeral Service will be held, following CDC guidelines, on Thursday, April 8, 2021 at 7:00 p.m. at the Hilton Baptist Church.
Donations can be made to the Hilton Baptist Church, 50 Lake Avenue, Hilton, NY 14468 in memory of Tony.