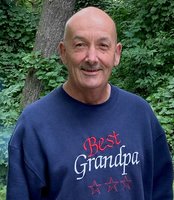 Michael Daniel Ingham
Hilton - Michael D. Ingham passed away on Monday, February 15, 2021 at the age of 67. He is survived by his loving wife, Christel [Jennejahn] Ingham; his mother, Geraldine Ingham; his children, Bryan (Christine) Ingham, Jennifer (Alfred) Simon and Charles (Andrea) Ingham; his grandchildren, Tyler & Troy Ingham, Elexandria & Emilee Simon and Eliza & Thomas Ingham; his siblings, Jim (Nita) Ingham, Bob Ingham, Doug (Cindy) Ingham, Charles (Christa Collier) Ingham, Larry (Cheryl) Ingham, Greg Ingham, Judy (Guy) Daniel and Betty (Don) Smith; his brother-in-law and sisters-in-law, Robert Jennejahn, Laurel M. Khiabani and Kara Malyk; and many nieces nephews and cousins. He was predeceased by his father, Robert Ingham.
Mike was an avid outdoorsman and sportsman - enjoying camping, biking, and gardening. He was an elder at St. Paul Lutheran Church.
Mike's Funeral Service will be held privately, with interment in Parma Union Cemetery in the spring.
Donations can be made in memory of Mike to St. Paul Lutheran Church, 158 East Avenue, Hilton, NY 14468 or Wilmot Cancer Center, 601 Elmwood Avenue, Rochester, NY 14642. (click on the charity name to link to the donation website)