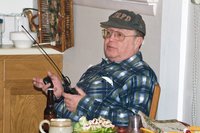 Ronald Huber
Ronald Huber passed away on February 2, 2021 at the age of 67. He was predeceased by his parents, Vincent and Elizabeth Huber. He is survived by his sisters, Marcia Berg (Paul), Joan Sullivan (Vince), and Deborah Shue (Wayne); his nieces, Christina Beeley, Kelly Rutkowski, and Rebecca Shue; his nephews, Eric Sullivan and Casey Berg; grand-nieces and nephews; his Aunt Alice; his dear friends, Audrey and Paul; and many other relatives and friends.
Ron graduated from Spencerport High School and, over the years, worked at Wegmans, Bausch&Lomb, DuPont, and at the Rochester airport. He was a member of St. Jude's Catholic Church, the Knights of Columbus, and the Greece-Ridge Fire Department.
Services will be held privately.
Arrangements entrusted to Thomas E. Burger Funeral Home, Inc. in Hilton.