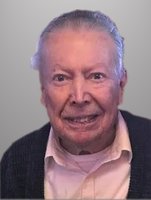 John D. Shanahan
Hilton - John Daniel Shanahan passed away on Wednesday, December 30, 2020 at the age of 96. He was predeceased by his brothers and sister-in-law, Robert Male, William Male and Charles (Doris) Male; and his sisters and brother-in-law, Mary Male and Dorothy (Gene) Fox. He is survived by his sister, Alberta Male; and his brothers and sister-in-law, Jack Male & Donald (Mary Lou) Male; and his several nieces and nephews, including his godson, David Fox; and his niece and care-giver, Patricia Male-Hartle.
John was a US Veteran of both the Army and the Navy and worked at Eastman Kodak.
There will be a Military Graveside Service in the summer of 2021 at Parma Union Cemetery.
John was a kind and dignified gentleman with a wonderful smile. He loved all his family, and we will miss him dearly.
The family would like to express their speical thanks to Grandville Senior Living community for the care he received.
Those wishing may contribute to a charity of your choice in John's memory.