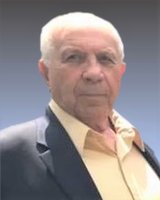 Ronald T. Pencola
Webster - Ronald T. Pencola passed away on Saturday, September 12, 2020 at the age of 81. He is survived by his wife of 60 years, Joanne [Vitale] Pencola; his children, Laurie (Robert) Zsedely, Lisa (Jay) Nuccitelli and Ron (Amy) Pencola; his grandchildren, Austin & Nicholas Zsedely, Julia & Adam Nuccitelli and Jacob Foster.
Ron was a Veteran of the US Navy, 1958 - 1964, having served on the USS Intrepid. He was a carpenter for Eastman Kodak for 25 years. Fishing, hunting and being the "World's Best Papa" were his pastimes, and he was a jack-of-all-trades, being able to "fix anything."
Family will greet friends Sunday, September 20th from 1 - 4 p.m. at the White House Lodge, 1100 Lake Rd., Webster, NY 14580. There will be a private family service at 4 p.m.
Donations can be made in memory of Ron to Alzheimer's Association, 435 E. Henrietta Rd., Rochester, NY 14620.