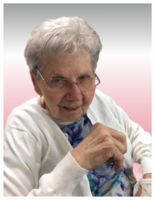 Stella Ann Kase
Hilton - Stella Ann Kase passed peacefully on June 20, 2020 at the age of 90. She is survived by her loving husband of 67 years, Leroy; and her daughter, Rene McClure; her grandchildren, April & Nick Hamilton, Heather & Tabor Illardo, James & Katie Kase, Jessica McClure & Ryan Troll, Christine & Louis Falco, Jennifer McClure; her great-grandchildren, Isabella Ferrante, Hunter Kase, Talon Illardo, Lillian Illardo, Emery Illardo and Theo Troll. She was predeceased by her sons, Lee & James Kase; and her son-in-law, Kenneth McClure.
Stella was a Veteran of the US Navy.
Family is invited to call Friday, June 26th from 11 - 12 PM at the THOMAS E. BURGER FUNERAL HOME, 735 East Avenue, Hilton where her Funeral Service will take place Friday, June 26th at NOON. Interment will be held privately in Parma Union Cemetery.