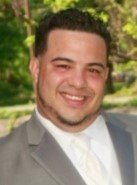 Alfonso Agudo Jr.
Greece – Alfonso Agudo passed away on December 29, 2019 at the age of 36. He is survived by his wife, Tracy DeBottis Agudo; his children, Nathan Hoover, Bella & Axel Agudo; his parents, Angie & Tony and Alfonso; his brothers, Danny, Michael & David Agudo; his loving grandmothers, Lupin & Carmen; his mother-in-law, Janice DeBottis; his brother-in-law, Timothy (Lindsay Schonleber) DeBottis; his many aunts, uncles, cousins, nieces, nephews and friends. He was predeceased by his father-in-law, Steven DeBottis.
Alfonso was a loving son, husband, father and friend to many, who enjoyed many activities including football and baseball, especially the NY Giants and Yankees.
Family and friends are invited to call on Thursday, January 2, 2020 from 3-6 PM at the Thomas E. Burger Funeral Home, 735 East Avenue, Hilton, where his Funeral Service will take place from 6-7 PM.
Interment will be held at the convenience of the family at a later date. Flowers are gratefully declined. Donations may be made to their children at the Hoover-Agudo Children's Fund, PO Box 745, Hilton, N.Y. 14468