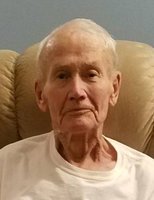 Richard G. Anne
Hilton: Richard Anne passed away on Wednesday, October 4, 2017 at the age of 85. He was predeceased by his wife, Jean in 2011. He met his wife, Jean on a blind date in 1952. They were married on 4/10/1954. He proudly served in the United States Navy from 1952 - 1956 on the USS Intrepid, then came back to Rochester and worked at Eastman Kodak for 34 years. He is survived by his sons, David (Elizabeth) Anne and Bryan (Andrea) Anne.
Richard is also survived by his 5 four-legged "grandkids", Nikki, Booey, Niko, Bitsy & Mia. He loved to play bingo when he lived in Florida and enjoyed the company of his bingo partner, Rosie Duncan and her husband, Darron. Rosie said all the ladies in the retirement park loved him and his jokes. He was a huge animal lover and in his younger days, loved to hunt, fish and camp. He was a long-standing member of Fillmore Lodge & American Legion Post 1155. When he lived summers in Portageville, New York, he was a frequent visitor to his favorite restaurant, the Charcoal Corral, for a fish fry. He loved Bon Jovi, the Tampa Bay Bucs and baked goods.
Family and friends are invited to call on Wednesday, October 11th from 4-7 p.m. at the Thomas E. Burger Funeral Home, Inc., 735 East Avenue, Hilton, where his Funeral Service will take place Thursday, October 12th at 10:00 a.m. Interment will be held in Parma Union Cemetery. In lieu of flowers, in memory of Richard, donations can be made to G.R.A.S.P., Inc., PO BOX 26741, Rochester, NY 14626.