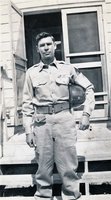 William Richard Sadewasser
November 28, 1950, age 24. Born May 6, 1926, the beloved son of the late Herman Mitchell and Carmen Mary (Stoll) Sadewasser, brother to the late Charles (Rita) Sadewasser and Virginia Sadewasser.
Uncle to Deborah Young, Susan Alley, Janice (Vinny) Michael, Kim (Mike) Huffer, Matthew (Dawn) Sadewasser, David Sadewasser; cousin and great uncle to many.
Bill first served in WWII and later died while serving his country in the Korean War at the Chosin Reservoir. He is being brought home through the 32nd Joint Recovery Operation, MIA/KIA Korean War Project, after 67 years missing, to rest beside his mother, father and sister.
A Private Graveside Service will be held September 23, 2017 in Ulysses, PA.