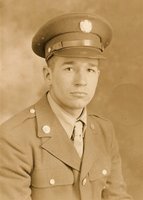 Armond T. Gascon
Webster - Armond T. Gascon passed away on Tuesday, April 10, 2018 at the age of 95. He is survived by his sister, Genevieve Knapp; his nieces, Mary (Larry) Sterina, Margaret (Alan) Leimberger, Josephine (Skip Stubbings) Acao, Joan (Allan) Goldman and Judith Brendle; his nephews, William (Faye) Knapp, Gerald (Donna) Gallagher and Robert (Marge) Gascon; his several great-nieces & nephews; his cousins and many friends.
Armond was a proud Veteran of WWII.
Armond's Graveside Service will be held on Tuesday, April 17th at 1 PM at Holy Sepulchre Cemetery in Rochester
Arrangements entrusted to Thomas E. Burger Funeral Home, Hilton.